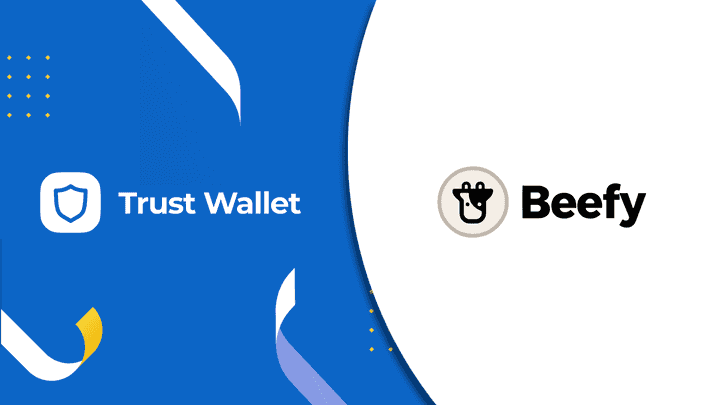 This article featured as a guest piece for the Trust Wallet community forum.
We've been saying it for years now: the scale and breadth of opportunity in Web 3.0 appears to be truly limitless. Just when you think the era of thousand-percent yields has finally ceded to the bears 🐻, a new chain or protocol launches to shake up the industry and reignite 🔥 your returns. But one thing remains a constant in this ever-dazzling display of decentralization: the best way to beef up your yields is still on Beefy 🐮.
But for those who weren't with us back in the early days, there's a chance you're still yet to learn about Beefy, and the miracle of its autocompounding yields. Well, don't fret… the original dream team of Trust and Beefy are here to help educate you on the best way to farm your yield 👨‍🌾.
What is Beefy?
Beefy is THE Multichain Yield Optimizer, responsible for automating the best opportunities that yield farming has to offer, and offering optimal returns for users. Beefy achieves this through the miracle of autocompounding - i.e. automatically reinvesting your earnings into its strategies to increase your yields. By combining deposits from different users, Beefy also uses scale to socialize gas fees, reducing the cost of yield farming for everyone.
The results can be truly sensational. Beefy's scale and rate of compounding allow it to achieve returns multiple times larger than the nearest competitors. But that's not all… Beefy's multichain-centered approach allows it to offer users a slew of opportunities you won't find elsewhere. Beefy is usually the first autocompounder on the scene with any major new chain, and has made a name for itself by championing fledgling projects before their opportunities reach mainstream markets.
As Beefy continues to build out its impressive interface and suite of intuitive DeFi tools, it's becoming the de facto home for on-chain yield farming, and a focal point for exploring the vast range of opportunities in Web 3.0. This is one protocol you don't want to miss…
Trust x Beefy
And you can access Beefy freely today, direct from the comforts of your Trust Wallet 🛡️.
In fact, the bond between Beefy and Trust goes way back to our early days, when Beefy was one of the first projects to work with and integrate Trust. True OGs from both projects will remember fondly the Beefy "Barn of Trust", where users from both communities staked their $TWT and $BIFI tokens together to earn rewards.
In the Trust mobile or desktop app, you can find Beefy in the "Discover'' section, which showcases all the latest and greatest Web 3.0 applications. Alternatively, just search for app.beefy.com in the "Browser" section. Two clicks and Trust will deliver you directly to the Beefy web app. Two more clicks, and you can have your assets securely autocompounding in one of Beefy's market-leading vaults.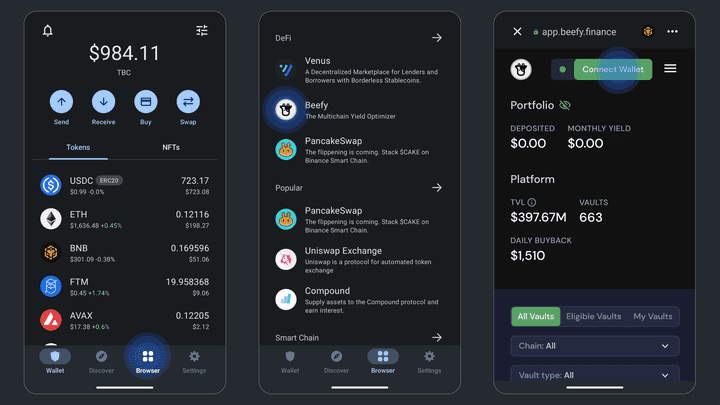 You can also find Beefy's $BIFI token in the "Discover" section. $BIFI is a multichain governance token, used to steer Beefy's development and governance on all of its deployed chains. You can access and store your $BIFI in your Trust wallet, and also stake $BIFI on the Beefy app to receive a share of fees generated by the protocol's vaults. With Trust, you can even buy $BIFI direct using the app's trusted on-ramp providers.
Trust and Beefy have been close partners for over two years now. We're proud to have been there every step of the way, to witness and support one another in becoming household names, and to guide our users safely and securely through the wonders of Web 3.0.
How To Guide
Depositing your assets on Beefy is extremely simple. Once you've reached the Beefy app on your Trust Wallet, you can filter to the blockchains you hold assets on, and by different types of assets (stablecoins, blue chips, etc) and vaults (single assets, LPs), to find the list of available options. Alternatively, use the search bar to seek out vaults for the assets you're interested in.
After finding a vault you love, click through to access the vault page for full details. Look for the "Deposit" tab either further down in your mobile browser or on the right-hand side on desktop. Here you can choose the type of token you want to deposit, and the amount to deposit. With Beefy's new Zap V2 feature, this can be any asset from the range of common blue chip, stable or native tokens we support. Hit "Deposit" when you're ready with your choice, and in just 1-2 clicks, your deposit will be confirmed and your assets will be autocompounding with Beefy.
The vault page also displays a range of information on the vault's TVL, price and annual percentage yield (APY), as well as the current composition of assets in the underlying liquidity pool. There's also a "Safety Score" section to alert you to some of the possible risks in our vaults. And don't fear! If you find an even larger return in another one of our vaults, you can exit your existing position using the "Withdraw" tab, next to "Deposit".
Beyond the vaults, Beefy's site is also built from the ground up to make things even easier for the user. You can quickly review your holdings, stats and performance with Beefy's new dashboard feature. If you're running short on crypto, Beefy also provides its own on-ramp solution, to get from fiat to Beefy vaults in just a few clicks. There's even a built-in bridge, to migrate your $BIFI tokens over to any of Beefy's other 18 chains!
Got more questions about Beefy? There's plenty more to learn in Beefy's comprehensive documentation. Or head on over to the friendly Beefy Discord to chat with the team and get your questions answered.
Thank Me Later
And that's it! Everything you need to know to get safely and securely from self custody of your cryptoassets to beefed-up multichain yields with Trust and Beefy… sensational secrets so sensibly sophisticated, they're seldom sought out by sordid scallions or short-sighted suckers. Now you have no excuse!
So, what are you waiting for? Those yields won't compound themselves! 😋